Call For A Free Quote Today
Everywhere you are, wholesale telecom gear
requirements as well as new
technological developments.
accomplish this are through:
High bandwidth to the
desktop;
VoIP Telephony-ready;
Modular, scalable
design;
Digital technology.
MICS for your business, you
knowledge that your phone
system will grow with you as
Norstar MICS Phone System - NT7B53
Computer-Telephony Integration


Bring the power of your most-used business tools together-your computer and your telephone-so you can manage all your communications right from your desktop. You can get, use, move, and access information faster than ever before.

CTI is changing the way business works by significantly reducing repetitive tasks so your employees will work smarter, while reducing 800/888 line charges by handling customer calls more quickly.


Call us at 800-538-3848 for more information on Nortel Computer Telephony Integration.
Meridian Norstar MICS 0x32 phone cabinet NT7B53

The Nortel Norstar MICS phone system cabinet (NT7B53) - or Modular Integrated Communications System is a good fit for you if you're looking for a reliable, feature-rich business phone system that is expandable. MICS supports up to 24 incoming lines and up to 274 extensions.

The Norstar MICS is produced by Nortel, one of the world's leading telecommunications manufacturers. Well built and reliable, the ICS line of business phone systems have a tested mean time between failure (MTBF) rate of approximately 100 years.

Nortel MICS Accessories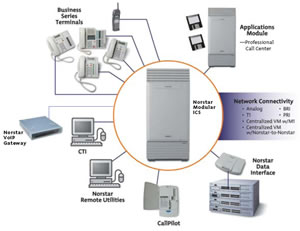 Desktop and Mobile Phones | Voicemail and Unified Messaging Options | VoIP Support | Call Center | CTI

Norstar MICS Expansion Possibilities Norstar MICS Accessories:

The Norstar MICS is the hub of your phone system. Its strength is its ability to connect a variety of equipment and integrate all of the various functions each provides.

Note - some supported features such as Caller ID require you to purchase the service from your local telecom company.

Norstar Business Phones


Your perception of your phone system is mainly based on how much you like your telephones. The Norstar MICS offers four user-friendly desktop phones, one mobile phone, a conference Norstar T-Series Business Phones for ICSunit and a doorphone.

The T-series Norstar desktop business phones come in charcoal and platinum color options. The conference phone and the Companion mobile phone are available only in charcoal.

Click here for more information on Norstar business phones.

Voicemail and Unified Messaging


The CallPilot 100 (also known as the Messaging 100) and the CallPilot 150 (also known as the Messaging 150) integrate with your Norstar MICS to provide Auto Attendant, Customer Call Routing (CCR), Voice Mail, VPIM/AMIS Networking, Basic Call Center (Key-code activation), Web-based management, and IP connectivity. The CallPilot 150 also includes a unified messaging solution for your Norstar ICS phone system.

Click on the links for more information on the CallPilot 100 and CallPilot 150.

Norstar VoIP Gateway


The Norstar VoIP Gateway allows you to use your existing company LAN or WAN to transport voice and fax traffic among locations. Take advantage of the productivity advantages and cost savings of Voice over IP (VoIP).

Click on the link for more information on the Norstar VoIP Gateway.


Call Center Solutions


Call Center Solutions from Nortel Norstar Automatic Call Distribution systems use digital technology to provide full integration of Norstar telephone sets and reduce the number of ports required. Supporting from 2 to 120 lines, and 2 to 80 agents, Norstar Automatic Call Distribution provides call center solutions for small and medium sized businesses.

Norstar Call Center software is available as an add-on to the CallPilot 100 and is included in the CallPilot 150 (Key-code activation required).

Call us at
800-538-3848
for more information on Norstar Call Center solutions.

Nortel Norstar

Norstar MICS
Norstar CICS
Norstar 3x8
ATA2 / FastRAD Modules
Norstar VoiceMail
Norstar Manuals
Nortel BCM 50
BCM 50 Key Codes
Media Bay Modules
Nortel BCM 450
Nortel BCM 400
Nortel BCM 200

Meridian 1 PBX
Meridian 1 Phone Cards
Meridian M3900 Phones
M3900 Snap-In Modules
Meridian M2000 Phones
Meridian Conferencing Unit

Phones
Norstar Phones (T-Series)
Norstar Phones (M-Series)
Norstar Cordless Phones
Norstar Audio Conferencing Unit
Nortel / Norstar Headsets
Norstar Phone Parts
Norstar Button Packs

IP Phones
Nortel 1100 Series IP Phones
Nortel 1200 Series IP Phones
Nortel IP i2000 Series II
Nortel IP i2000 Series I
Nortel 2033 IP Conference Phone
Avaya Cloud Services

23 Years Experience Coast to Coast
Office: 727-518-9627 | Toll Free: 800-881-3848 | Fax : 727-518-9307
Cisco Unified Communications System
Copyright © 2013 by AmeriTel Corporation · All Rights reserved
Ameritel Corp provides Sales & Services for all your Telecom Equipment needs.
We are wholesale telecom equipment suppliers of Business Phones, VoIP Phones, IP Phones, Conference Phone Systems, Speciality Phones, Communications Systems, Cloud Services, Headsets and accessories as well as In House Telecom Equipment Repairs, Refurbished Telecom Equipment, Telecom Equipment Warranty, Troubleshooting and Database Administration for Cisco, Avaya, Nortel, Aastra, Axis, Plantronics Telecom equipment products.
E-Mail: suppport@ameritelcorp.com
SERVICES
Telecom Equipment Repairs
Refurbished Telecom Equipment
Telecom Equipment Warranty
Cloud Storage
Database Administration
Warranty Dealer
PRODUCTS
Avaya
Cisco
Nortel
Plantronics
Aastra
Axil
Accessories
ABOUT US
Contact
Corporate Office
Mission Statement

Privacy Policy
Terms of Use
Cookies

Office: 727-518-9627 | Toll Free: 800-881-3848 | Fax : 888-538-3848